Introducing ScriptHero Pharmacy
A new solution that simplifies how patients fill their prescriptions
is a board licensed pharmacy
By empowering patients to participate in their treatment plan, ScriptHero Pharmacy combined with ScriptHero marketplace helps make prescription cash prices more predictable and improves medication access.
E-Prescribe to ScriptHero Pharmacy:
---
NPI: 1902465503
NCPDP: 3687045
Phone: 1-866-411-9134
Fax: 1-844-826-8871
910 John St
Suite 3A
Columbus, OH 43125
Pharmacy hours:

Monday-Friday
9 a.m.-5 p.m. ET

Saturday
9 a.m.-2 p.m. ET
How it Works
1
Ask your doctor's office to send your next prescriptions to ScriptHero Pharmacy. Once the ScriptHero Pharmacy receives the prescription, they'll send you a text asking you to claim your prescription.

2
Using ScriptHero marketplace, compare cash prices at participating pharmacies in your area, see discount options, and choose the pickup pharmacy best for you.

3
Pick up your prescriptions at the pharmacy and choose to use either your insurance or the ScriptHero marketplace card!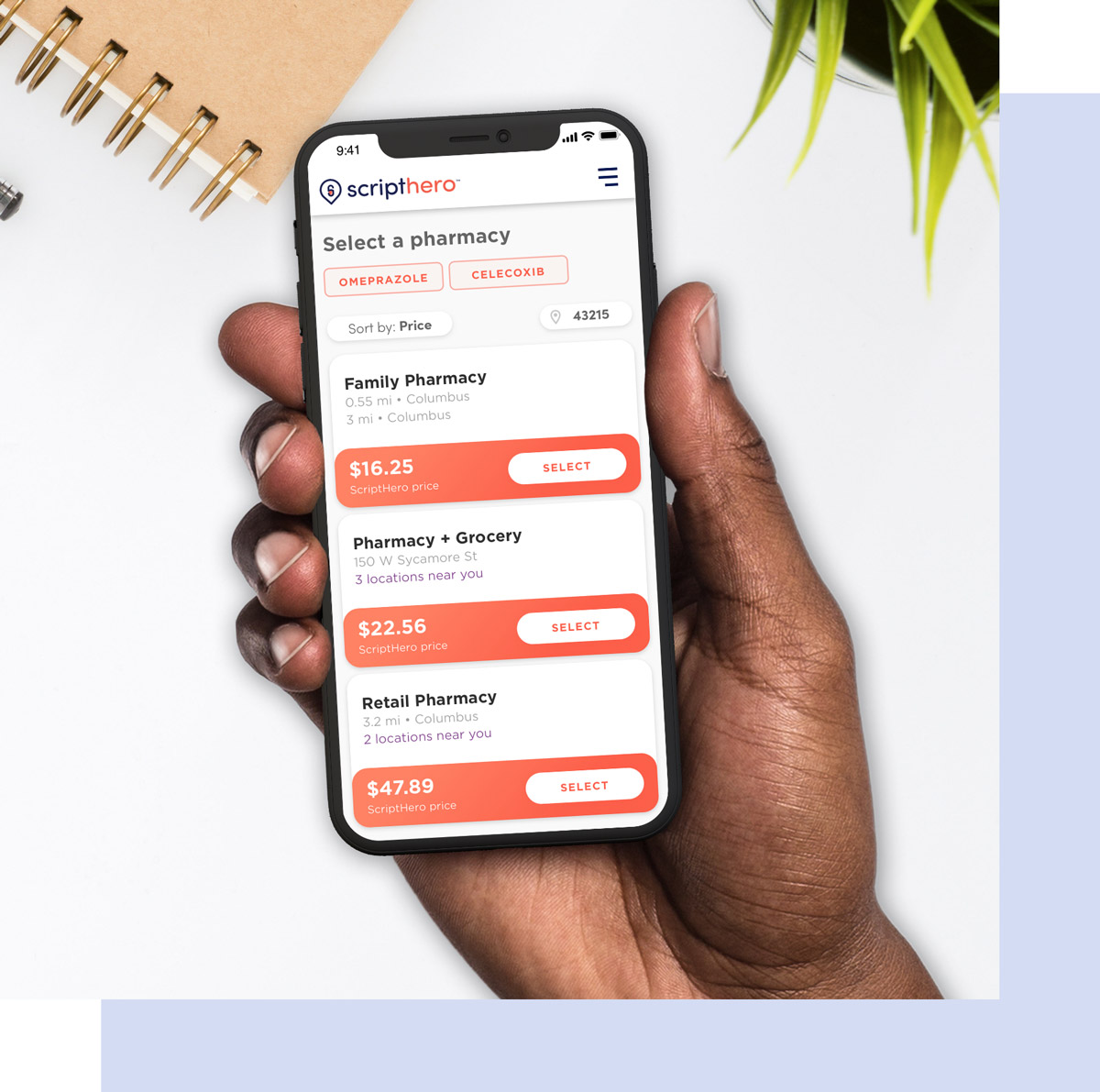 Sending your scripts to ScriptHero Pharmacy
Your doctor can electronically send your prescription to ScriptHero Pharmacy just like any other pharmacy. If they have trouble finding ScriptHero Pharmacy, show them the pharmacy information in the blue box above.
Take control of your prescription process
Have you ever wondered why you're expected to tell your doctor's office which pharmacy you want prescriptions sent to before you even get written a prescription? Ever wondered why no one is able to tell you what your medication will cost before you pick it up at the pharmacy? We do - and we think this process is unfair to patients. That's why we created the ScriptHero platform.
Our Pharmacy Team
Meet the folks who make ScriptHero Pharmacy possible
Megan Marchal

Clinical/Regulatory Pharmacist

Kyle Dresbach

Pharmacist-In-Charge

Becca Wilson

Clinical Pharmacist
Frequently Asked Questions
What is ScriptHero Marketplace? keyboard_arrow_down

ScriptHero Marketplace is a service that allows users to search medications, and then find the nearest pharmacies with the lowest prices. Once a pharmacy is located within ScriptHero, we will provide a discount card to use at that pharmacy when the prescription is ready, to get the ScriptHero price on the medication.

What is ScriptHero Pharmacy? keyboard_arrow_down

ScriptHero Pharmacy is a pharmacy that is able to receive e-prescriptions from a prescriber, and then transfer the prescription to a patient's preferred pharmacy.

Who can I call or email to ask questions about a prescription or to get more information on the ScriptHero platform? keyboard_arrow_down

Questions about prescriptions can be directed to a support team member. General questions about the ScriptHero platform can be directed to help@scripthero.com.

What are the ScriptHero Pharmacy hours of operation? keyboard_arrow_down

The pharmacy is available Monday-Friday, 9 a.m.-5 p.m. ET.

Where is ScriptHero Pharmacy located? keyboard_arrow_down

ScriptHero Pharmacy is located in Columbus, OH.